Crayon Bounce House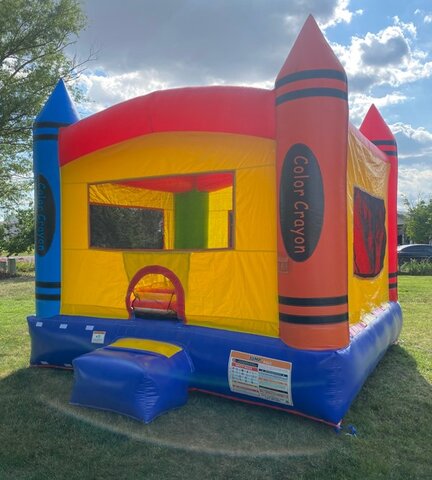 Setup Area: 17ft L x 15ft W x 14ft H
Actual Size: 15ft L x 13ft W x 12ft H
Outlets: 1
Age Group: 3 and up
Description
Introducing the Crayon Bounce House – where imagination knows no bounds and bouncing becomes a vibrant adventure! Turn playtime into a canvas of creativity with this whimsical inflatable wonder designed to inspire endless laughter and artistic exploration.
Crayon-Inspired Design: Dive into a world of color with the Crayon Bounce House. The vivid hues and crayon detailing make it a visually captivating play space that sparks the imagination of budding artists.
Bounce and Create: Let creativity soar as little ones bounce and play within the spacious interior. The Crayon Bounce House is not just a play area – it's a canvas for artistic expression. Watch as children invent their own colorful games, tell imaginative stories, and bring their artistic visions to life with every joyful bounce.
Safe and Secure: Safety is our top priority, and the Crayon Bounce House is designed with this in mind. The sturdy construction, reinforced seams, and safety netting ensure that kids can bounce to their hearts' content in a secure environment. It's the perfect combination of fun and safety for worry-free play.
Party Palette: Make your next celebration a burst of color and laughter with the Crayon Bounce House. It's the perfect centerpiece for a crayon-themed party, creating a joyful atmosphere that will leave a lasting impression on all your young guests.
Unleash the power of imagination and color with the Crayon Bounce House – where every bounce is a stroke of creativity, and every playtime is a masterpiece in the making!
This Crayon bounce house will ensure your party goers leave with having had a blast. Regardless of if you are in Kennewick, Richland, Pasco or the surrounding Tri-Cities areas, our Crayon bounce house will be a hit at your party or celebration.