Three Rivers Jump's mission is to make happy memories and incite unending laughter by renting out safe, high-quality bounce houses that add fun and happiness to any occasion. With outstanding customer service, an assortment of well-maintained inflatable play structures, a dedication to cleanliness and safety, and a commitment to exceeding expectations of our clients.

1. Safe Inflatable Operator Training Organization (SIOTO)! We are the only Tri-Cities operator who is certified by SIOTO which speaks to our commitment to safety and excellence. SIOTO is dedicated to industry standard training and the rental operators who are able to display their seals have proven their commitment by accepting these standards as their way of safe operations in the inflatable rental industry.

SIOTO is unique and differs from many other organizations in that they do not simply ask members to operate safely, they train them in safe operating procedures through a series of safety courses. Don't settle for less, settle for the best that your operator can offer.
2. Fully Insured and L&I Inspected! We strongly recommend you rent from a company that carries a full liability insurance policy. Without insurance you could be held liable for injuries to your guests. Additionally, if you want to have a rental unit at a park or public area, working with an insured company is typically required. Our policy covers $2 million aggregate, $1 million per accident, and $100,000 per person.

Per Washington law, RCW 67.42, to ensure that amusement rides in Washington are safe, ride operators are required to have their rides inspected annually by a state licensed safety inspector.

Look for a valid L&I Amusement Ride Safety Inspection operating permit decal posted within sight of the ride operator's station. To get a permit, operators must provide a satisfactory report from a certified amusement ride inspector and proof of current liability insurance coverage for no less than one million dollars.

3. Clean and Disinfected after every use. If these last couple years have taught us anything it is that cleanliness and disinfection are critical. Upon take down, our clients will notice us cleaning and sanitizing our units to ensure they are ready for the next renter. Additionally at the end of every season, our units are thoroughly cleaned for storage. (SEE OUR 3 STEP CLEANING PROCESS BELOW)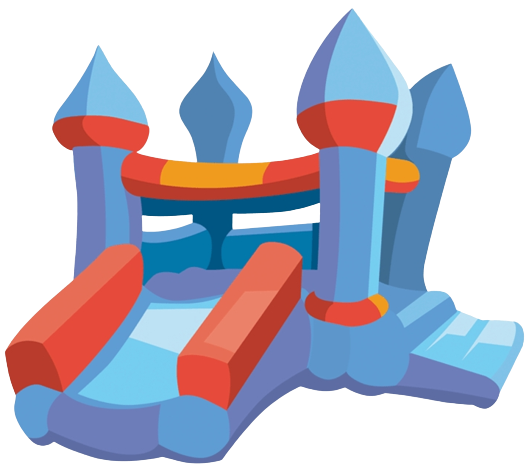 3 Step Clean
We honor and value your trust in our service and equipment. We are dedicated to providing our customers with properly cleaned and disinfected rentals each and every time.
Step 1
Clean Out all Dust, Dirt, and Debris
Step 2
Deep Clean Unit with Cleaner and Sanitizer
Step 3
Clean, Sanitized and Ready for Fun!