Monster Bounce House with Water Slide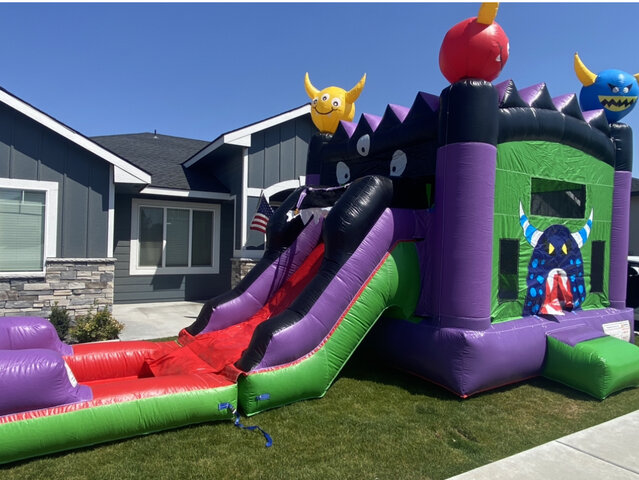 Setup Area: 32ft L x 15ft W x 17ft H
Actual Size: 29ft L x 13ft W x 15ft H
Outlets: 1
Age Group: 3 and up
Description
Embark on a wild and whimsical adventure with the Monster Bounce House with Slide – where the thrill of the bounce meets the excitement of monstrous mayhem! Transform your backyard into a creature-filled wonderland with this inflatable masterpiece that promises hours of laughter, imaginative play, and a thrilling slide experience.
Monster-Inspired Design: The Monster Bounce House is a riot of color and whimsy, featuring friendly monster faces, wild patterns, and vibrant hues that bring a touch of kooky charm to your play space. It's a lively and imaginative setting that invites little ones to bounce among the monsters and create their own monster-filled tales.
Bouncing and Sliding Extravaganza: Enter the realm of monster madness as kids bounce to their hearts' content in the spacious jumping area. But the excitement doesn't stop there – the built-in slide adds an extra layer of thrill, allowing youngsters to slide down from the monster summit to the ground below. It's a double dose of fun in one inflatable package!
Imaginative Play: The Monster Bounce House encourages creative play as children invent stories, games, and adventures within the monster kingdom. From befriending the monsters to embarking on epic quests, this inflatable wonder sparks the imagination and turns playtime into a monster-filled escapade.
Safe and Secure Playground: Safety is our top priority, and the Monster Bounce House is designed with secure play in mind. The safety netting and cushioned surfaces ensure that kids can bounce and slide with abandon, providing parents with peace of mind as their little ones navigate the monster-filled wonderland.
Monstrous Party Central: Elevate your next party or gathering with the Monster Bounce House with Slide. It's the ultimate centerpiece for a monster-themed celebration, creating a lively atmosphere filled with laughter, giggles, and monstrous delight.
Indoor and Outdoor Monster Mischief: Bring the monster party indoors or let Monster Madness shine under the open sky. Its versatile design makes it suitable for both indoor playrooms and outdoor festivities, ensuring that the monster mayhem is always within reach, no matter the weather.
Turn your backyard into a monster-filled playground with the Monster Madness Bounce House with Slide – where every bounce is a leap into a world of colorful creatures, laughter, and endless fun!
This Monster Bounce House with Slide will ensure your party goers leave with having had a blast. Regardless of if you are in Kennewick, Richland, Pasco or the surrounding Tri-Cities areas, our Monster Bounce House with Slide will be a hit at your party or celebration.