Ninja Bounce House with Water Slide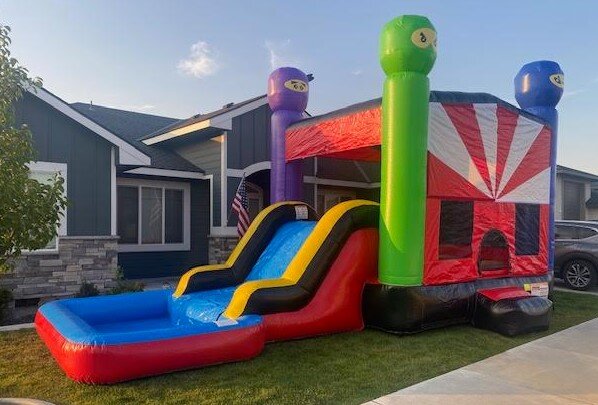 Setup Area: 28ft L x 15ft W x 17ft H
Actual Size: 26ft L x 13ft W x 15ft H
Outlets: 1
Age Group: 3 and up
Description
Unleash the spirit of the ninja with the Ninja Bounce House with Slide – where every bounce is a daring adventure, and every slide is a journey into the shadows! Transform your backyard into a ninja training ground with this inflatable marvel that combines the thrill of bouncing with the excitement of stealthy slides.
Ninja-Inspired Design: The Ninja Bounce House is a tribute to the art of the ninja, featuring sleek, stealthy designs, and a color palette that exudes mystery. With its ninja motifs and cool detailing, this inflatable wonder sets the stage for imaginative play and ninja-themed adventures.
Bouncing Ninja Warriors: Enter the realm of ninja training as kids bounce with agility and precision in the spacious jumping area. The Ninja Bounce House creates an atmosphere that's perfect for mastering ninja moves and unleashing hidden skills. It's not just a bounce house – it's a training ground for the next generation of ninja warriors.
Ninja Slide Thrills: The excitement doesn't end with bouncing – the built-in slide adds an extra layer of ninja-worthy thrills. Watch as little warriors slide down from their covert perch, making a stealthy entrance to the ground below.
Safe and Secure Ninja Play: Safety is paramount, and the Ninja Bounce House is designed with this in mind. The safety netting and cushioned surfaces ensure that little ninja apprentices can train and play with confidence, providing parents with peace of mind during their ninja exploits.
Ninja Celebration Central: Elevate your next party or gathering with the Ninja Bounce House with Slide. It's the ultimate centerpiece for a ninja-themed celebration, creating an atmosphere filled with ninja agility, laughter, and endless excitement.
Indoor and Outdoor Ninja Mastery: Bring the ninja training indoors or let the Ninja shine under the open sky. Its versatile design makes it suitable for both indoor playrooms and outdoor ninja festivities, ensuring that the stealthy adventure is always within reach, no matter the weather.
Turn playtime into a ninja training session with the Ninja Bounce House with Slide – where every bounce and slide are a step closer to ninja mastery, and the adventure never ceases!
This Ninja Bounce House with Slide will ensure your party goers leave with having had a blast. Regardless of if you are in Kennewick, Richland, Pasco or the surrounding Tri-Cities areas, our Ninja Bounce House with Slide will be a hit at your party or celebration.