Purple Tropical Bounce House with Water Slide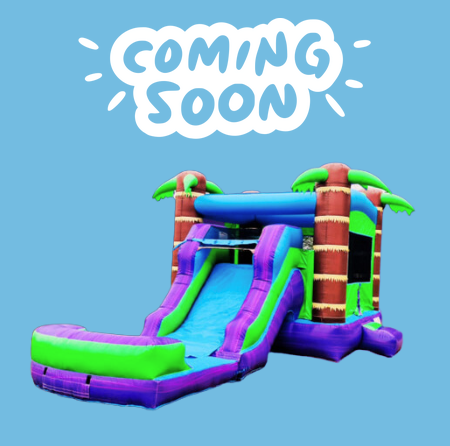 Setup Area: 15ft W x 32ft L x 15ft H
Actual Size: 13ft W x 29ft L x 13ft H
Outlets: 1
Age Group: 3 and up
Description
Turn your backyard into a tropical paradise with our Purple Tropical Inflatable Bounce House with Slide! This vibrant and enchanting play haven is designed to bring the spirit of the tropics to your doorstep, offering a paradise of play for kids of all ages.
Tropical Oasis Design: Immerse yourself in the lively and colorful world of the tropics with this inflatable bounce house. Adorned with palm trees and vibrant hues, it's an instant ticket to a tropical adventure right in your own backyard.
Bounce, Climb, and Slide: This inflatable wonderland is not just a bounce house; it's a multi-functional play paradise. Kids can bounce away to their heart's content, climb up to a mini-platform, and then take the plunge down the attached slide for an extra dose of excitement.
Cooling Splash Zone: Beat the heat with the incorporated water slide feature. Transform the bounce house into a refreshing oasis by connecting a garden hose to the water spray system, turning every slide into a cool and refreshing journey.
Fun for All Ages: The Purple Tropical Inflatable Bounce House with Slide is designed for family fun. Watch as children of all ages come together for a day of laughter, bouncing, climbing, and sliding, creating memories that will last a lifetime.
Safety First, Always: The bounce house is equipped with safety features ensuring a worry-free playtime experience for parents and guardians.
Create a tropical retreat in your own backyard with the Purple Tropical Inflatable Bounce House with Slide. Let the kids bounce, climb, and slide their way into a world of endless summer fun. Make your next gathering a tropical celebration full of smiles, laughter, and unforgettable moments!
This Purple Tropic bounce house with slide will ensure your party goers leave with having had a blast. Regardless of if you are in Kennewick, Richland, Pasco or the surrounding Tri-Cities areas, our Purple Tropic bounce house with slide will be a hit at your party or celebration.