Tropical Bounce House with Water Slide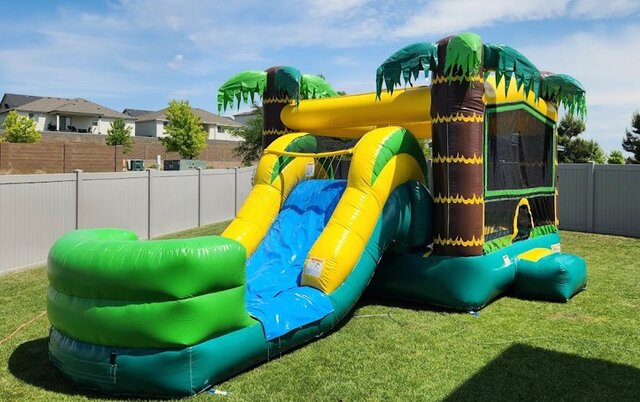 Setup Area: 26ft L x 15ft W x 17ft H
Actual Size: 24ft L x 13ft W x 15ft H
Outlets: 1
Age Group: 3 and up
Description
Escape to a tropical paradise with the Tropical Bounce House with Slide – where the sun always shines, and the fun never ends! Transform your backyard into an island oasis with this vibrant and exhilarating inflatable wonder that combines the thrill of bouncing with the excitement of a tropical adventure.
Island-Inspired Design: The Tropical Bounce House with Slide transports kids to a tropical paradise with its palm trees and vibrant colors. The detailed design creates an immersive environment that captures the essence of a sun-soaked getaway, making every play session a mini vacation for the little ones.
Bouncing Bliss and Slide Thrills: Watch as kids bounce away in the spacious jumping area, surrounded by tropical motifs and lively patterns. But the excitement doesn't stop there – the built-in slide adds an extra element of thrill, allowing youngsters to slide into the soft embrace of the inflatable paradise. It's double the fun in one delightful package!
Safe and Secure Play: Safety is paramount, and the Tropical Bounce House with Slide is designed with this in mind. The secure mesh netting and cushioned surfaces provide a safe environment for active play, giving parents peace of mind as their little ones embark on tropical escapades.
Versatile Entertainment: The Tropical is not just a bounce house – it's a versatile play space for various activities. Whether kids are bouncing, sliding, or creating their own tropical adventures, this inflatable wonder encourages imaginative play and active exploration in a safe and enjoyable setting.
Party in Paradise: Elevate your next party or gathering with the Tropical Bounce House with Slide. It's the ultimate centerpiece for a tropical-themed celebration, creating a festive atmosphere that transports guests to a sun-drenched island filled with laughter and excitement.
Turn your backyard into a tropical wonderland with the Tropical Bounce House with Slide – where every bounce and slide bring the spirit of the tropics to life, and the adventure never stops!
This Tropical Bounce House with Slide will ensure your party goers leave with having had a blast. Regardless of if you are in Kennewick, Richland, Pasco or the surrounding Tri-Cities areas, our Tropical Bounce House with Slide will be a hit at your party or celebration.