Wave Water Slide (15ft)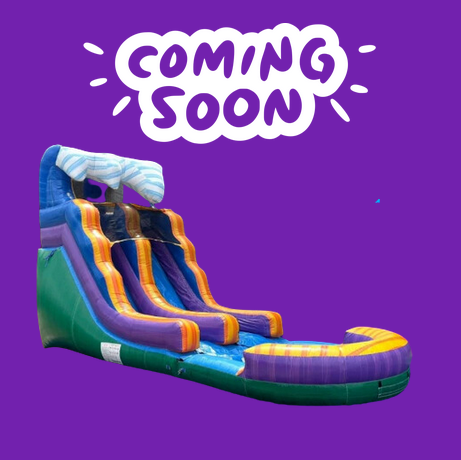 Setup Area: 12ft W x 30ft L x 18ft H
Actual Size: 9ft W x 25ft L x 15ft H
Outlets: 1
Age Group: 5 and up
Description
**Combine with our slip and slide to add additional fun to your slide**
Dive into the excitement with our 15-Foot Wave Inflatable Water Slide – the perfect fusion of thrill and aquatic adventure for your backyard oasis! Get ready to ride the waves and create a splash-tastic summer experience for family and friends.
Wave-Inspired Design: Transport your backyard into a beachside paradise with the 15-Foot Wave Inflatable Water Slide. The wave-inspired design captures the essence of oceanic joy, providing a visually stunning and dynamic backdrop for an unforgettable slide.
Ride the Crest of Fun: Standing at an impressive 15 feet, this water slide is engineered for an exhilarating descent. Feel the rush as you ride the crest of the wave, with water cascading around you, delivering an authentic seaside experience right in your own backyard.
Sturdy and Splash-Worthy: Crafted from durable PVC material, this water slide ensures hours of entertainment. The design is not only sturdy but also features vibrant, fade-resistant colors, making it a focal point of vibrant fun for summers to come.
Family-Friendly Adventure: Perfect for family gatherings and neighborhood parties, the 15-Foot Wave Inflatable Water Slide caters to thrill-seekers of all ages. Watch as laughter and excitement fill the air, creating shared memories that will last a lifetime.
Safety First: The water slide prioritizes safety with features ensuring a secure and worry-free experience for everyone.
Make a splash this summer with the 15-Foot Wave Inflatable Water Slide. Transform your backyard into a wave-riding haven and let the aquatic adventure begin! Get ready for a season of sliding, splashing, and unforgettable family fun.
This Wave water slide will ensure your party goers leave with having had a blast. Regardless of if you are in Kennewick, Richland, Pasco or the surrounding Tri-Cities areas, our Wave water slide will be a hit at your party or celebration.